Replace your old Door Phones with a new generation LCD Video Door Phones
Video door stations with robust INOX anti-vandal construction (2mm thick steel)
Color camera with wide angle lens 170° fish-eye
LED lighting for a color image in the dark
Visual indications and voice instructions
Color monitors TFT LCD 7 inches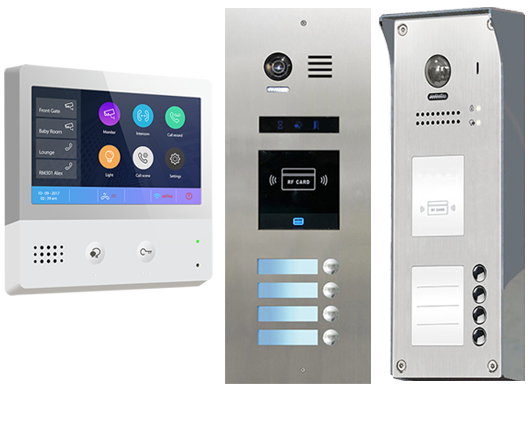 The reasons that make us stand out:
WE DESIGN – MANUFACTURE IN GREECE
DOOR PHONES – VIDEO DOOR PHONES
Technical support

Through phone (free)
At the installation by a technician of our company (with a charge according to our commercial policy)
Free assistance from our technician on the first installation for new customers
Telephone support also after our company's opening hours 9:00-19:00

Know-how & originality

We were the first to introduce this particular range of products in 2008, which is currently used by the majority of the market

Free technical seminars

Organized technical seminars for new products
Individually for new clients in our company

We provide our customers with the possibility of study and installation by our company's technicians
Special constructions in door stations in special dimensions, with the possibility of engraving a house address or integrating a mailbox.
Stand – suitcase at a special price
3 years real guarantee of the materials without cost of inspection by the technical department of our company
Free construction of a website with our products (with your company's information and logo)
Free provision of a printed brochure (with your company information and logo)
Since 2008, our company has been evolving and modernizing, achieving a steady upward trajectory. Today we hold, together with the first companies in our field, a large share of the Greek market. This upward trajectory of our company is due to its spirited potential, which by giving its maximum every day, makes us able to provide our services with reliability and consistency. A large part of the success is also due to loyal friends & customers who trusted us and supported us all these years. Our consistency and reliability go hand in hand with a thorough search for systems that satisfy the needs of even the most demanding customer.